Fairytale Town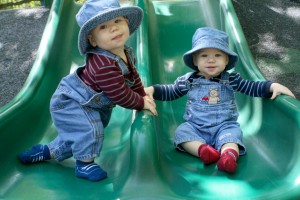 On Mother's Day weekend, I had the boys all to myself on Saturday because the Twin-Daddy had some fencing obligations that took him out of town. We were in the midst of a new round of teething, so the boys' sleep patterns were all a bit wonky. We started the day off fairly well, but both boys were a bit clingy, tired and quick to cry. After a rather pitiful little nap, I debated whether to pack us up for the adventure I had planned. However, knowing our little guys are usually much happier when out and about still, it seemed like a good idea to brave a little crying in the short term to give them a new experience. I put in the Baby Mozart DVD to keep them entertained while I restocked the diaper bag and added a banana and cheerios for our little guys' lunch. They were completely enthralled by the colors, animals and music. They especially like it when there are kittens that meow, dogs that bark and some ducks that quack.
With the car finally packed and diapers changed one last time, we headed off on our new adventure – Fairytale Town. I had been there once before with my niece Brenna, but this was the first time for Dom and Alex. They're still a bit small for a lot of the play areas, but there was still plenty to see and do. Plus, the boys really enjoyed watching all the children running around and playing. In fact, they were two sweet, wonderful little boys who smiled at strangers and were much admired.
Alex and Dom got to see some real animals – 2 sheep, a cow, a donkey, bunnies, ducks, and 3 little pigs. They went down their first slide twice (with Mommy holding onto them), and they seemed to like it. They enjoyed playing with the handle of the water pump at the Jack and Jill well, and they crawled through a hole in a great big piece slice of yellow cheese. They even got to meet a giant tortoise statue. They also both decided to taste grass while we were sitting down for their little lunch (cheerios, banana and haffle), and it was all I could do to keep (almost all of) it out of their mouths. I ended up putting them back in their stroller to finish the meal.
I look forward to going back when the boys are walking on their own. Maybe next time I can get photos of them steering the pirate ship or by Jack's beanstalk.
Mother's Day
We had a quiet day with the whole family together for Mother's Day. Dom and Alex helped Dad decorate the presents for Mom, and I got a book from each of my fellas. Yes, we love books in our household; though our books are the bane of all who help us move. Alex learned to climb on top of a tub, and he did it over and over again. He even stood up on the blue tub later. Fortunately, the Twin-Daddy was close by to make sure he was safe. Alex and Dom are both getting really good at standing, and they've started helping Mommy turn the lights off and on and open doors when I carry them both from room to room.
It's amazing how much a person's life can change in a year. Last year at this time, we had found a new place to live, and we were getting ready for the big move. I was already in the full-moon pregnancy stage and struggling to keep my ankles from swelling up like grapefruit.
Now, I have two sweet little boys who continually amaze me. I love playing and snuggling with them and watching them learn new skills. Motherhood is so much more than I ever expected. I wouldn't trade it for anything.