From the Twin-Daddy:
Week 20 – Monkeys, Frogs, and Ducks
Twin Day has come and gone here again and we got a funny surprise from the doctor last week. Apparently we have another ultrasound with the baby-ninja (Dr. Hershey) and they wondered why we haven't scheduled it. (Perhaps we were to sense this intuitively or something.)
The nice thing about another ultrasound is that it provides us with a decent number of checks on our growth rate over the next 8 weeks to watch out for Twin-to-Twin Transfusion Syndrome.  As of today we are at 20 weeks with our boys growing strong and ahead of schedule on the growth curve. After 28 weeks we can all breath easier aboout TTTS.  Dr. Hershey recommended ultrasounds every two weeks and this is how our actual schedule breaks out:
April 5, 2010 – Ultrasound with Dr. Hershey
April 14, 2010 – Ultrasound with the Perinator
April 15, 2010 – very quick ultrasound to check heart rate with OB-GYN
May 5, 2010 – Ultrasound with OB-GYN
May 12, 2010 – Ultrasound with the Perinator
You can see we had an almost 3 week gap in there which has suddenly been filled with an appointment with Dr. Hershey on Monday, April 26. This means our largest gap in the monitoring of the tummy-monkeys will be about a week and a half. When we reach June 17, that means we are largely clear of the danger period and the twins could be delivered in an emergency if necessary anywhere from there until September 9 which is our best guess due date.
Frogs, Ducks, and Monkeys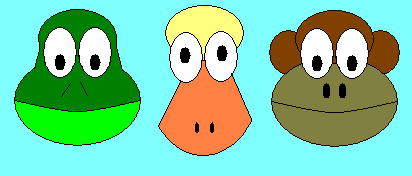 With the Spanish swordplay articles out of the way I should also mention that while neither Mary or myself would consider ourselves too thematic or plugged into fashion, we're looking at frogs and ducks as our general theme for the nursery and baby stuff. Mary has also started calling them the tummy-monkeys so monkey stuff will get a kind eye as well. We are taking steps to get registered, but with the double baby bump developing so much faster than it would during a singleton birth, Mary's energy level isn't what it would normally be.  (That and we may be packing up all our stuff and moving to a new house.)
We may try to get registered this weekend, but with a large collection of family and friends saving baby-stuff for us, sorting it and deciding what we need takes some time.
The Diaper Tsunami
It may be unromantic but we are certainly going to need piles and piles of diapers. For a moment, let me release the inner-geek with a tip of the hat to John and Teresa who first warned us about the joys of twin diapering.
Facts:
1 meal every three hours per child with 24 hours in a day.
Each child will be changed at least once per meal.
Calculations:
24 / 3 = 8 meals per day per twin
= 8 diapers per day per twin
That is 16 changes a day and John and Teresa were estimating 20 diapers per day is a good bet.  Any engineer with a calculator is going to immediately extrapolate this out a bit.
1 week = 140 diapers
1 month (30 days) = 600 diapers
1 year = 7300 diapers!!
(I may need to go lay down for a bit with a cold towel on my head.)
Just looking at this amazing number you can see that diapers are going to be something we will desperately need. Gift cards to Wal-mart, Target, and other diaper-rich places will hopefully keep our boys from running naked through the streets. (I say "hopefully" because they are related to my brother and there's no telling what genetic code might be passed on that promotes nude sprinting.)
Baby-Wrapping
Knowing the diaper tsunami was coming, at Mary's birthday party I challenged my male friends to a "baby-wrapping" contest at her birthday dinner and, like true primates, all the men competed against each other to impress the females with our prowess as possible mates. In order to better simulate a late night diaper changing the men wrapped the babies blindfolded.
There may be some people that say stealing another man's baby and hiding it under the table is unfair.  Honestly, if he wanted to pass on his genetic material to the next generation, he should have guarded his baby a little better.  After the initial baby-theft incident, the men became much more cautious hovering over their babies with a protective guard position or pinning the baby to the table while changing it.  Some men would scurry off with their babies to change them in the relative safety of a chair instead of the more dangerous table region.
This contest proved that the recent Dads (Tom, Eric, and Jim) were the ones to beat and Eric eventually won the day edging out these two with a photo finish.  Truly he was much adored by the ladies.  Several of the younger men performed well too and may be getting additional interest from the female population as a result of their manly demonstrations.
Babies Countdown – The Double Header
134 days until September 9
Today, April 26 is 20 weeks and 4 days and an ultrasound with the Baby-Ninja.
Tuesday, April 27 is the Sacramento Mothers of Multiples Meetup.
Tuesday, May 4 is child birthing class number 5.
Wednesday, May 5 is our next OB-GYN appointment.
Wednesday, May 12 is our next appointment with the Perinators.
Thursday, May 20 and the twins become viable as early as 24 weeks.
Thursday, June 17 is

Homefree Day

. 90% of twins born at 28 weeks survive and that number only gets better from there on out.
Thursday, August 12 and we hit our goal of 36 weeks minimum. From here on the twins could come at any time.
Thursday, September 9 and we hit 40 weeks. This is our due date even if we expect the twins to possibly come sooner.
4 Weeks Post Delivery – Look for

baby smiles

.
Sometime After the Delivery – 4.5 months of the

Twinsanity Interval

.