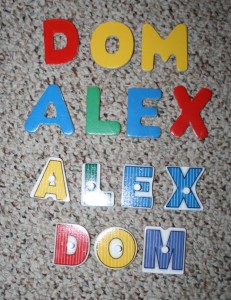 Dom and Alex can now read both their names! They cannot only identify the names but anticipate the next letters as we set them out and read them when written or spelled out with letters from puzzles and other things. I'll be even more excited when they can arrange the letters themselves to spell their names!
I'm pretty sure that Alex has his two bottom 2-year molars coming in right now–which explains how snuggly he has been–and Dom at least one bottom molar. This probably also explains them them waking up a bit more at night and in the early morning recently. Puck spent time helping Alex fall asleep tonight.
Apparently, putting your hand over your face turns you into a robot. Alex showed me. Then he made me a robot and next his brother a robot long distance.
I pulled out their little red coupe and their rocking chair, and they had a good time with both for much of the morning. Eventually, the coupe became an issue between them and got a timeout, but the rocking chair remained popular to sit on, turn over, climb through, and generally explore.